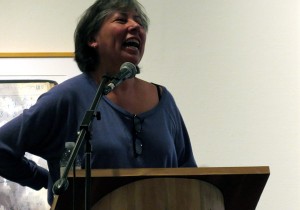 Sense of Place Featuring: Nino Ricci, Alistair MacLeod, and Rebecca Belmore in Thunder Bay, January 27, 2012
Article courtesy of The Walleye by
Tiffany Jarva
The Thunder Bay Art Gallery audience was silent as acclaimed Canadian author Alistair MacLeod, in his soft lilting voice, read from his short story "The Boat," in amongst the pieces of the touring
Sense of Place
printmakers exhibition. The award-winning MacLeod, author of two short story collections and the critically acclaimed 1999 novel
No Great Mischief
, was here along with fellow writer Nino Ricci and internationally known performance artist Rebecca Belmore.
The powerful sense of place is at play in the work of all three artists. Ricci, winner of the Governor General's Award for Fiction twice, opened the night with a reading (off his iPad!) from
The Origin of Species,
taking us back to the 80s and the place we all know as The Galapagos.
Originally from nearby Upsala in northwestern Ontario, Belmore shared a couple of her videos documenting her live performances which she referred to as works made in a very "particular" place. 2008s
Making Always War
was performed on the UBC campus in response to the dead soldier count climbing to 100 in Afghanistan.
Victorious
was created during
Hive 2
, a theatre festival in Vancouver, just days after Prime Minister Stephen Harper's official residential schools apology.
MacLeod, considered by many to be one of Canada's greatest prose writers, ended the formal part of the evening with his reading from his compelling short story "The Boat," which creates a strong sense of place and the emotions tied to the harsh realities of a fishing family in Cape Breton. When Ricci responded during the Q+A as to why small towns work so well in fiction, he mentioned that he thinks an "intimate sense of place" can be created when we travel back to the small places, villages and towns of our roots. And during this evening, thanks to the artists sharing their works, an intimate sense of place was created for a few hours, with memories lingering for much longer.
---
Images:
Top left: Alistair MacLeod reads from his short story "The Boat." Special Guest performance artist Rebecca Belmore. Author Nino Ricci reads from
The Origin of Species
, winner of the Governor General's Award for Fiction. Photos by Alastair MacKay
Left: Visitors at book signing meet with authors Nino Ricci and Alistair MacLeod. Right: Thunder Bay audience gathers to hear Readings from Nino Ricci, Alistair MacLeod, and talk from performance artist Rebecca Belmore
Windsor Printmaker's Forum, founded by local artists in 1987, has established a working space for area artists to create and produce their own original, limited edition prints. As a non-profit arts organization and an artist-run production center, we offer facilities in lithography, intaglio, relief, silkscreen and letterpress printing, giving area artists/printmakers a place to continue their creative development in the fine arts printmaking medium. All content © 2020.